GLORIANA, THE QUEEN'S ROWBARGE
Her Majesty The Queen named the Royal Rowbarge Gloriana as a lasting legacy to mark her Diamond Jubilee. Her Majesty has asked that Gloriana be retained by Lord Sterling and the new charitable trust for Gloriana with assistance from Thames Alive and has approved the principle that Gloriana will be used to promote better use of the Thames. This will be achieved through providing opportunities for Royal-supported, and other charities, to play their part in occasions and celebrations upon the Thames, with a particular emphasis on events involving young people.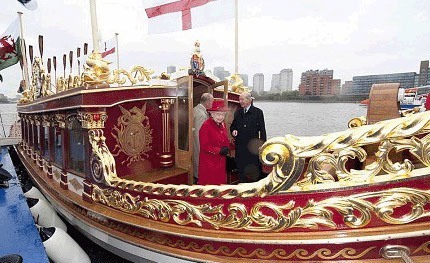 Gloriana The Queen's Rowbarge is a lasting legacy of The Queen's Diamond Jubilee in 2012. Her immediate realm is the River Thames and London, but Gloriana also celebrates the Commonwealth, which delivers a truly international dimension to her presence. The crests of 16 Commonwealth countries adorn the outside of the coach.
Gloriana is an inspiration for national pride, a showcase for traditional British boat-building and craftsmanship, and a means of encouraging people, especially young people, to engage with the River Thames and the sport of rowing.
Lord Sterling and the Trustees of The Gloriana Trust are most grateful for the splendid support provided by The Maritime Heritage Trust and in particular by their Chairman, David Morgan, from the early stages of design and construction through to the setting up of The Gloriana Trust.
LATEST NEWS
The Queen's Row Barge 'Gloriana'
Thursday, January 3rd, 2019 at 9:59am
Press & Media – Gloriana, The Queen's Rowbarge
Brunswick Group assists with Gloriana's media relations. Please contact Ben Fry: tel. 020 7404 5959 or email GLORIANA
@brunswickgroup
.com. Credit for all pictures on this site is reserved by The Gloriana Trust & Thames Alive who also gratefully acknowledge those pictures that have been submitted vi...
Britain is famous across the world as a country rich in heritage and pageantry, and our strong naval traditions are carried on by a history of sporting success in rowing. This vessel unites these two strengths very neatly in this Jubilee and Olympic year, and I very much look forward to seeing the finished article on the river and joining Steve in the boat.
Christopher Rodrigues CBE, Chairman of the Port of London Authority
The Thames Diamond Jubilee Pageant