Monday 19th September 2022
Gloriana paid her final respects, clad in black and with oars tossed in salute to Her Majesty Queen Elizabeth II at Runnymede as she made her final journey to Windsor Castle. It was our final tribute as part of an extraordinary culmination of sadness and celebration of a most wonderful seven decades of service and duty to all of us.
Gloriana was accompanied by several rowing boats from Wraysbury Skiff & Punting Club, Henley Whalers and Langstone Cutters, as well as the Association of Dunkirk Little Ships, all in salute as the funeral cortége passed by.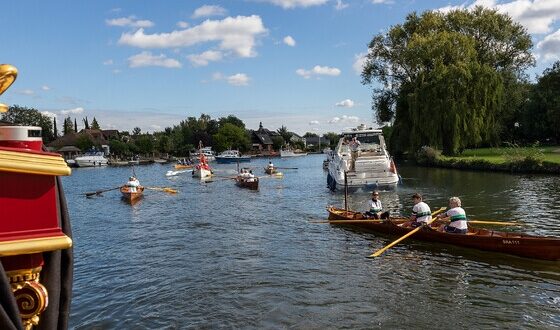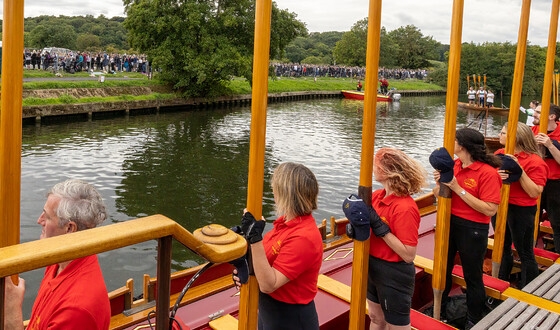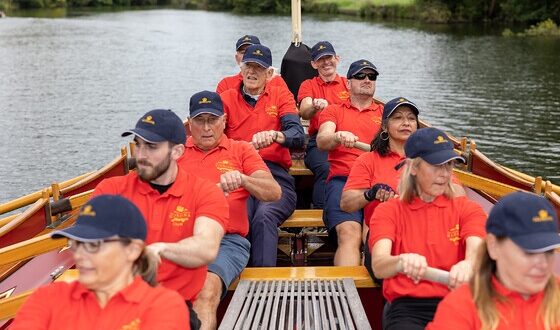 Credit: © Tim Hodges Photography 2022
Friday 9th September 2022
A brief message of condolence was sent to His Majesty King Charles III from Lord Sterling on behalf of all involved at the Gloriana Trust.
GLORIANA, THE QUEEN'S ROWBARGE
Her Majesty The Queen named the Royal Rowbarge Gloriana as a lasting legacy to mark her Diamond Jubilee. Her Majesty asked that Gloriana be retained by Lord Sterling and the charitable trust for Gloriana and approved the principle that Gloriana will be used to promote better use of the Thames. This will be achieved through providing opportunities for Royal-supported, and other charities, to play their part in occasions and celebrations upon the Thames, with a particular emphasis on events involving young people.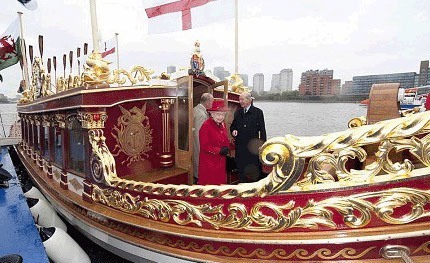 Gloriana The Queen's Rowbarge is a lasting legacy of The Queen's Diamond Jubilee in 2012. Her immediate realm is the River Thames and London, but Gloriana also celebrates the Commonwealth, which delivers a truly international dimension to her presence. The crests of 16 Commonwealth countries adorn the outside of the coach.
Gloriana is an inspiration for national pride, a showcase for traditional British boat-building and craftsmanship, and a means of encouraging people, especially young people, to engage with the River Thames and the sport of rowing.
Britain is famous across the world as a country rich in heritage and pageantry, and our strong naval traditions are carried on by a history of sporting success in rowing. This vessel unites these two strengths very neatly in this Jubilee and Olympic year, and I very much look forward to seeing the finished article on the river and joining Steve in the boat.
Christopher Rodrigues CBE, Chairman of the Port of London Authority
The Thames Diamond Jubilee Pageant