Chairman of the Trustees
LORD STERLING
Lord Sterling has a long connection and great experience in the maritime history of Britain, and London in particular. He is Chairman of the Royal Museums Greenwich 2005-2013, and of the Cutty Sark Trust 2001-2015, and was formerly Executive Chairman of P&O Steam Navigation Company 1983-2005, and is now Life President of P&O Cruises. He holds the rank of Hon. Vice Admiral in the Royal Naval Reserve, ran the London celebrations for the Silver Jubilee, and was Chairman of the Steering Committee for the Queen's Golden Jubilee. Lord Sterling is also Chairman and co-founder of Motability, which provides cars for disabled people.
The Queen's Diamond Jubliee in 2012 was the catalyst for a number of like-minded people to think about how the River Thames and rowing could be harnessed for the celebrations, echoing the great Royal river occasions and  pageants of the past. Lord Sterling conceived and commissioned QRB Gloriana as a lasting legacy to mark Her Majesty The Queen's Diamond Jubliee.
---
The Trustees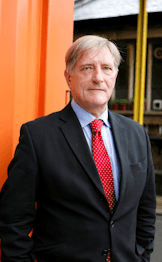 ERIC REYNOLDS
Eric Reynolds founded Urban Space Management in 1970 and specialises in complex and creative urban regeneration schemes. His projects include setting up Camden Lock Market, revitalisting the Elephant and Castle Shopping Centre, devising Gabriels' Wharf and refurbishing Bishopsgate Goodsyard. He created Container City, USM's design and build side based around re-using shipping containers. He leads our work at Trinity Buoy Wharf, home to London's only lighthouse as a centre for arts and creative activity. Among other projects,  he acts as a regeneration advisor across the country and is a trustee of several voluntary bodies including The Gloriana Trust and Royal Museums Greenwich.
Eric was awarded a Lifetime Achievement Award, Regeneration and Renewal Awards 2012.
Eric is also very involved the rowing world. He a Freeman of The Worshipful Company of Watermen and Lightermen and a loyal member of Vesta Rowing Club in Putney, which hosts large races on the River Thames each year.
---
PHILLIP ROBERTS
---
---
The Operations Team
KEITH BALDWIN, General Manager
Keith has been involved in rowing for almost 50 years, most of that time at Twickenham Rowing Club. Over this time Keith has filled most of the officer positions at the club, but in particular was President for four years during which time he led the team which raised funding and carried out a major rebuild of the clubhouse.
After a career working in business consultancy, Keith's time has more recently been more focussed on rowing. Apart from his role at Twickenham Rowing Club he is an active and competitive Masters rower.
Taking on a role with Gloriana is an exciting next step and Keith will be working with the rest of the Gloriana team to plan and carry out events and also to further develop plans for Gloriana's future.
---
MATTHEW GORDON, Events Organiser
Having completed 24 years with Honeywell in 2015 Matthew brings his skills in event management and marketing to the Gloriana team.
He began rowing on the River Thames at Tiffin School in Kingston, a passion which lasted for over 30 years. To this he has added many other forms of boating, racing in skiffs and punts, rowing replica Viking long ships, coastal boats and sailing, as well as umpiring and coaching on the Thames and many other rivers.
As a Liveryman of the Company of Worshipful Company of Fuellers, Matthew is honoured to play an active role in the life of the Royal barge.
---
ANDREW ADAMS, Skipper
Andrew's nautical studies commenced as a student at Pangbourne College and on graduation after a short time in land based business he joined Cliveden House as their Boatman. He set up 3D Marine and over the next twenty years developed skills in all areas of boating not least of all umpire launch driving for most of the major rowing events on the River Thames.
Andrew sat on the Training & Safety Committee of The Passenger Boat Association, prior to the PBA being subsumed into The British Marine Trades Federation. Oddly for a Boatman, Andrew is a Liveryman of the Worshipful Company of Carmen not the Company of Watermen & Lightermen.
He now lives in Henley-on-Thames and works as a boat haulier and boatman for most of the famous Thames boatyards and boat museums; specialising in the delivery, crewing, management, lifting and transport of classic boats.
Andrew is extremely honoured to be involved in the QRB team. He is usually at the helm for all of Gloriana's events upstream of Putney Bridge and as First Mate for those below Putney.
In 2015 3D Marine provided the deck crew and service teams for all of the 'Gloriana' events.
---
SCOTT NEICHO, Skipper
Scott is the owner of Capital Pleasure Boats Ltd having grown up on the tidal River Thames.
At the time of the launching of 'Gloriana' he was the Barge Master of the Company of Watermen & Lightermen and as such was asked if he would helm the barge at the Diamond Jubilee Pageant – a duty he performed with great aplomb.
Scott and his Operations Manager, Will McKee, have since then enthusiastically supported the project helming the barge at most of the events on the tidal river in central London. They also assist with the annual tow to and from the PLA yard at Gravesend for the winter storage of Gloriana. They, and all the CPBS team, are honoured to be involved with The Queen's Row Barge.
---
MICHAEL (FEZZ) PARKER, Skipper
Fezz joined the Royal Navy from 1979 serving in the Submarine Service on Porpoise and Oberon class Diesel Electric Submarines.
His life on the Thames commenced in 1985 at Salter Brothers working out of Windsor obtaining his Boatman's Licence in 1986. He went on to skipper for The Windsor Boat Company, The Maidenhead Steam Navigation Company and then Thames Luxury Charters.
In 2012 he obtained his Boat Masters Tier 1 Licence to work as skipper in the Port of London
He's currently Operations manager and skipper at Windsor Duck Tours and thoroughly enjoys helming 'Gloriana' on the occasions when the other skippers are not available.
---
DAMIAN BYRNE MVO